Life in the Snow: Ski Tourism
Minamiuonuma Lodging Area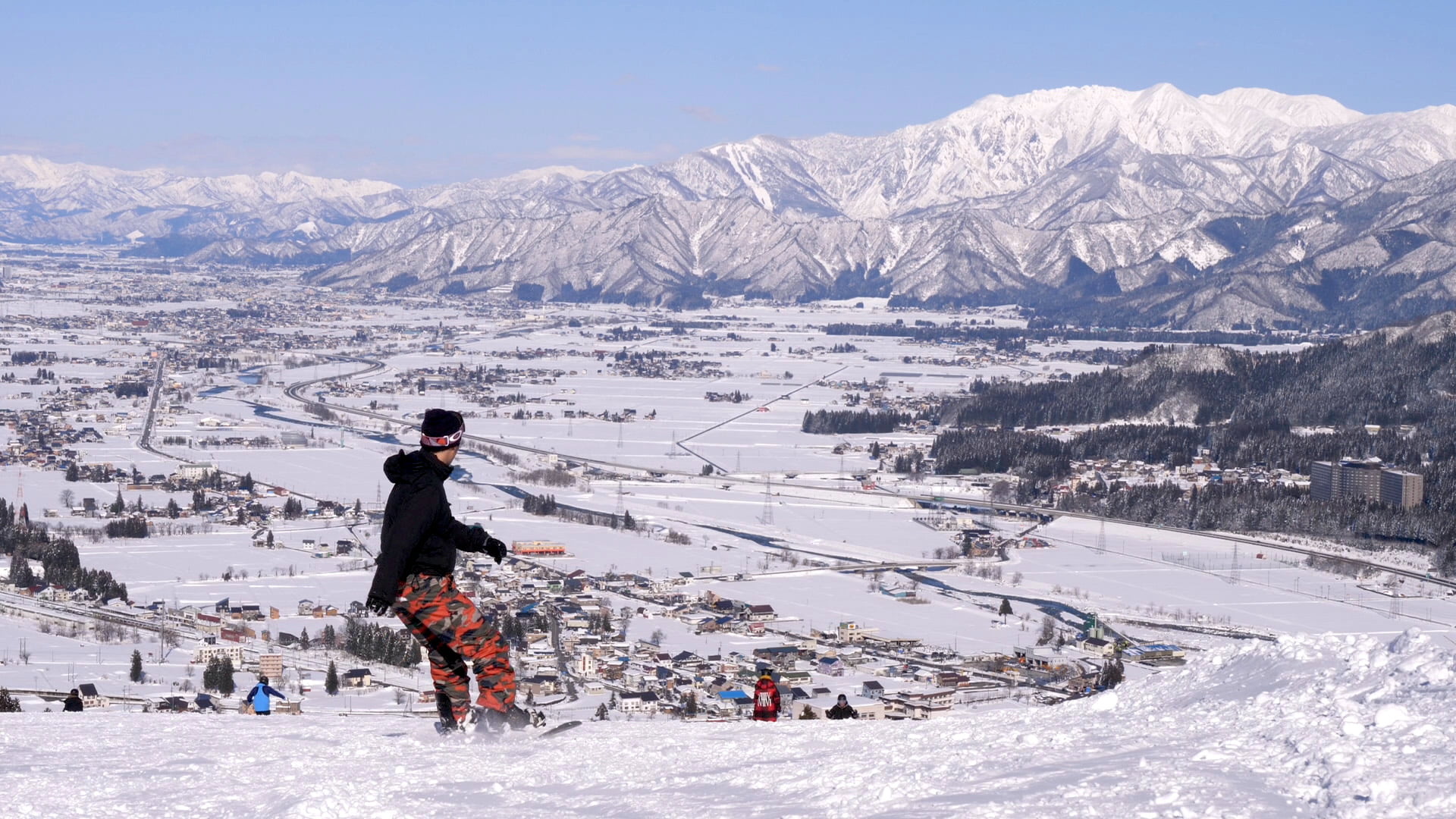 Life in the Snow
The turning point for this area, now widely known as a popular ski tourism destination, came in 1931 (the 6th year of the Showa period). Japan Railway's Joetsu Line was opened and as guests from the Kanto area began visiting to be refreshed in countryside hot springs, the Ishiuchi area gradually came to flourish. Only four years later, in 1935, there were hot spring inns all over town. Okumaya, Asahikan, and Takahan had begun hosting visitors by Ishiuchi Station. And households of various trades including oil-suppliers and wholesale vendors opened family-run ryokan, while other accommodations in the Uwano and Uwamura neighborhoods sprang up as well.
At this time farming was the main source of income for most families. The Ishiuchi district, narrowly sandwiched between two mountain ranges, had little flat land that could be used for farming, stymying locals' ability to make a living. For this reason men would spend close to half the year working away from home, living apart from their children and wives. These living conditions were particularly harsh; in some years so many fathers had left for work that the town didn't have enough men to pound mochi rice for celebrating the New Year.
However, after World War II, skiing became a popular activity for Tokyo's upper class as well as occupying forces, and visitors began coming to ski resorts like Iwappara and Nunoba. In 1949, the Ski Intercollegiate competition Yuzawa had arranged was relocated to Ishiuchi at the last minute due to a lack of snow. This opportunity prompted an effort to establish ski resorts in the Ishiuchi area. While Tokyo was still midway through being restored and food shortages persisted, those longing to ski and find hearty provisions came and visited Ishiuchi.
During this period of food shortages many thought, "In the countryside we grow rice and vegetables, we have many eggs from laying hens, and most of us raise our own cattle too. Using these abundant resources, shouldn't we offer to host the frequent ski tourists as guests?" Thinking along those lines, as an extra source of income alongside their work as farmers, many guesthouses that would benefit from ski tourism were opened.
The sense of hospitality in these lodgings was something truly from the heart, offering a person-to-person service that valued each individual. Greeting guests at the station along the boarding platform, loading luggage and bringing it to the doorstep of one's lodging, drawing a bath with the water heated precisely to one's liking, and treating guests to the finest things a host could offer in their home were all characteristic of these Ishiuchi accommodations. Coming from these origins, a shared desire to offer the most delicious rice and vegetables that have all been personally grown to our valued guests exists here today.
Farmers who ran guesthouses took pride in the rice they had grown. To say why, it is that from planting fields to polishing, every part of cultivating this product was done individually. Holding one's head high in saying "this is the rice I have personally grown," it would be offered to guests.
Because of the food shortages after the war, the prefecture endorsed the cultivation of many different strains of rice. However, in an age where local farming professionals focused on quality over quantity, they labored toward a high-quality rice crop. This would become the region's famous Koshihikari variety. Within the same city of Minamiuonuma, a competitiveness appeared with farmers striving to produce a rice even more delicious than the crops from Ishiuchi. Supposedly, visitors to Ishiuchi would enjoy Koshihikari so much at their guesthouses that stories of its taste began to spread through word of mouth, and eventually the brand-name's explosive influence came to reach far and wide. The side work of opening guesthouses suited farmers remarkably well. Ski tourism and rice. Ishiuchi, touted as one of Japan's best ski tourism areas along with access to the freshest Minamiuonuma Koshihikari, sounded too good to be true.
Currently, there are over 200 lodgings in the region, each with their own rich and distinct personality. Able to experience Minamiuonuma's Nature, Koshihikari, Onsen, People, and Cuisine, we'd be delighted if you came and enjoyed these local appeals with us. The activities that can be appreciated only here, enhanced by knowing the area and its rich local history, are waiting to be discovered.
Author: Former Ishiuchi Maruyama Tourist Association Chairman Shoji Onozuka
Site Information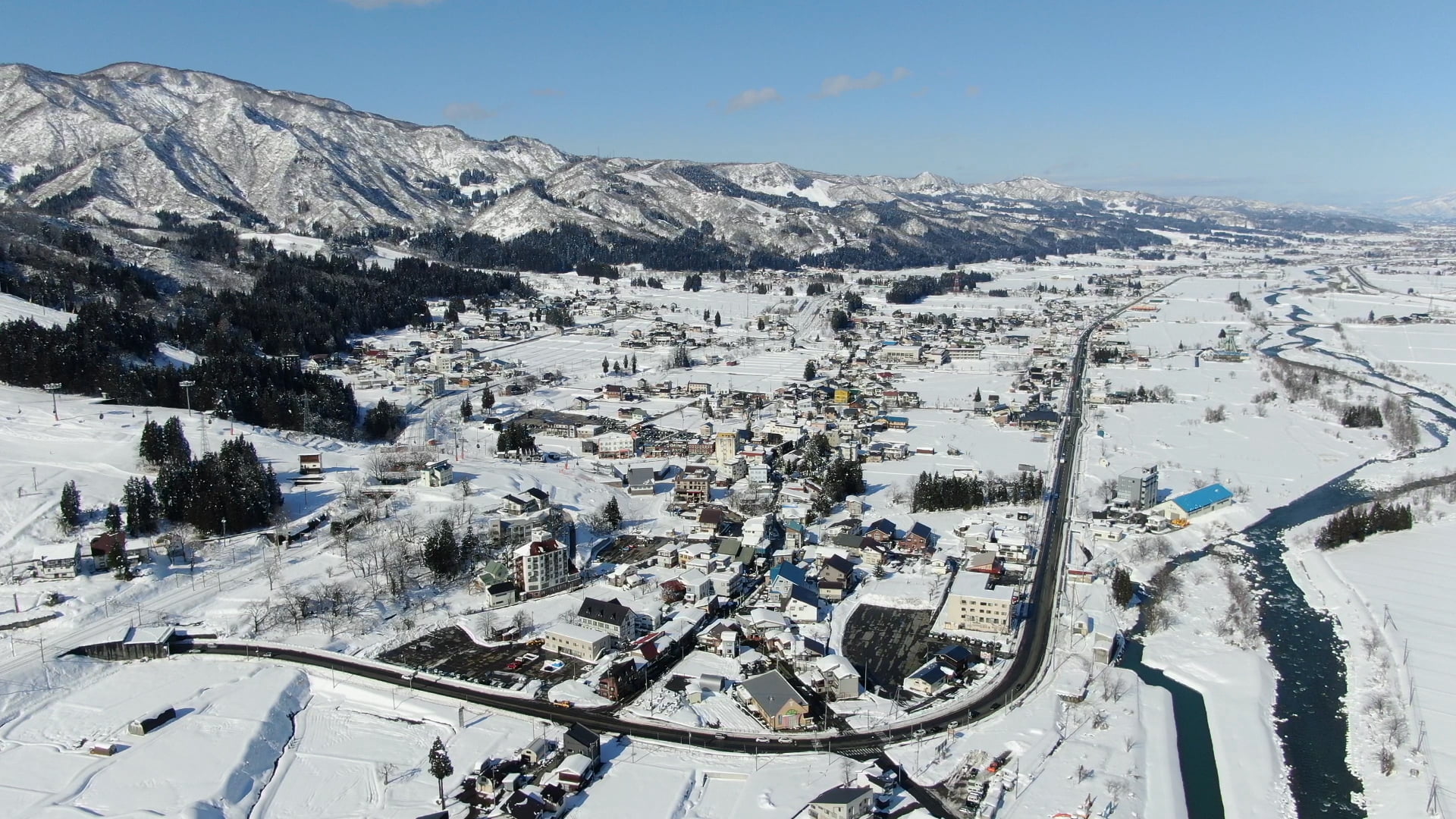 | | |
| --- | --- |
| Name | Life in the Snow: Ski Tourism & Minamiuonuma Koshihikari |
| Address | 855 Shimohitoichi, Minamiuonuma City, Niigata Prefecture |
| Telephone | 025-783-3377 |
| Business hours | 8:30~17:30 |
| Regular holiday | New Year's Day |
| Parking Lot | 150 spaces |